ETI – TEXTIL offers a wide range of ribbons, or thermal transfer tapes in various colors and qualities, such as wax, mixed, or resin. With these articles it covers multiple application needs and uses, being able to print media of paper, card, synthetic, or textile supports. It also has solutions and specific qualities for uses in extreme temperature conditions, cold, heat, humidity, etc.
Wax Thermal Transfer Ribbons or Tapes
This quality is mainly used for printing on paper or card supports. The wax ribbon is excellent value for money and offers a low operating cost. The application of this quality is recommended for obtaining clear prints in standard environments in which there are no specific requirements regarding resistance, cold, humidity, etc.
MIXED Thermal Transfer Ribbons or Tapes
This quality is used for the printing on paper or card supports. It offers greater resistance to certain chemicals and has greater durability than wax ribbons against friction. The printing quality is excellent.
Resin Thermal Transfer Ribbons or Tapes
Resin quality is used for very specific applications where, due to the printing surface, or the conditions of application, or use, wax or mixed ribbons do not produce an optimum result. It offers greater durability and strength. There are specific resin ribbons for specific applications, such as the printing of textile supports, uses in extreme environments, etc.
Within each of these ribbon qualities there are several references that can be used depending on the requirements, or use to which the application is intended. The final result depends on several factors, such as print media, conditions of use, etc. It is necessary to have this information to propose several technical alternatives. Before using any ribbon, you should always carry out the tests you deem appropriate to determine what quality/reference gives you the best result according to your specific conditions and printing support.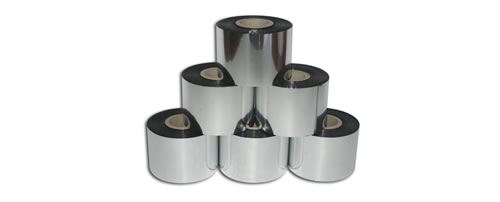 Legal notice: Products not exposed for sale. It reproduces as a sample of our technical capacity. The distinctive signs belong to their respective owners.